Lori Lieberman Rocks THIEL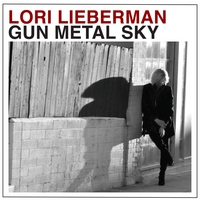 Talk about a rare treat. How would you like it if one of your favorite songwriters just walked into your office one day and played a song? That's pretty much what happened here Tuesday. Tuesday was a good day.
Kathy and Joe Cali (Lori's husband and producer) go way back, and Joe has been a THIEL dealer for quite some time, so there's the connection. Lori is a pretty well known and universally praised musician that has tons of records out. All are very well recorded.
Gun Metal Sky
is the new one, and it's very very good. Even though it's a collection of songs, it's best listened to as an album from start to finish. You should buy it.
Joe and Lori were in town Monday so Lori could play NPR's Woodsongs in support of her new album. Tuesday, they dropped in because Dawn tempted her with our "good coffee". We chit-chatted for an hour or so about a variety of things. Having never met Lori, and only Joe on a few occasions, they were really fun to converse with and the whole visit felt like we were all a bunch of old friends.
So then Kathy gets this wild idea that she wants Lori to play a song for us in the listening room. She sends Dawn on a wild goose chase to Jim's house to find his Taylor acoustic (since, after all, even the finest song writers don't carry their axes with them all the time.) which she promptly returned with. In parallel, I scurried around trying to find a suitable mic and pre to record with. The best thing I could come up with was an AKG shotgun mic and an M-Audio FW Solo - the former we use for training video shoots, and the latter for our driver QA rig.
Lori said she'd play, and boy are we happy she did. She played her hit "Killing Me Softly" and we all just sat there with our jaws on the floor. Lori sounded absolutely lovely and is entirely delightful. We don't get to hear good live music around here often much less in our own room. Lori, thanks SO much from all of us, you made our day!